Oral History of
River Boats
In 1989, Miss Doreen Gill shared some interesting information about life on the Manning River in her younger days.
Miss Gill's father, Albert Alexander (Bert) Gill, was a director of the Lower Manning Co-operative Dairy Company for 33 years. When he retired, her brother Dallas became a director also.
Her memories are of the vendors who travelled along the river carrying their goods for sale. W.A. Gill, Butchers, of Jones Island, had rowing boats in which delivered meat. The boats would have a cabin out the back, covered with a fly proof type of gauze, similar to the gauze on old meat safes. Their boats where called "Durham" and "Achme" and they would be rowed around Jones Island and also to Scotts Creek and Oxley Wharf. As roads developed, Gills' Butchery acquired a horse and cart and a butcher's wagon and later a motor lorry.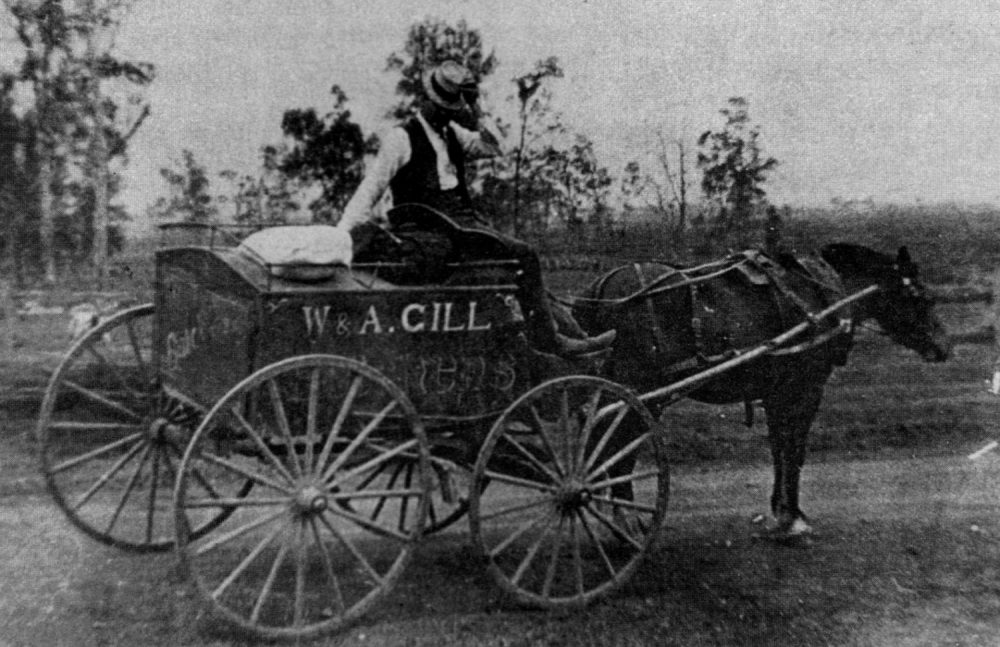 In the 1900's, droghers came up Ghinni Ghinni Creek to collect casks of tallow, bags of bones and hides. The hides would be salted and bagged up. They would have to arrive and leave via the Coopernook end of Ghinni Ghinni Creek, as they could not pass under the Ghinni Ghinni Creek Bridge. They turned around in Ghinni Ghinni Creek at the butcher's shop wharf and had to be poled around. The cargo was loaded on to the North Coast boats either at Coopernook or at Croki Wharf and taken to Sydney to the markets.
"Hawk-Eye" Edwards writes that in the very early days (1880's) sailing ships would go up Ghinni Ghinni Creek, picking up corn from farmers. A big plank would be put out to load the corn on to the ship.
The Baker, Butcher and Grocer all travelled up Ghinni Ghinni Creek selling their wares. The grocer was C.L. Harris and his boat was called the 'Myra' . It was fitted with little shelves and you could get almost anything from a needle to a hay-stack, such as candle sticks, potatoes, kerosene, cottons etc… Housewives would trade their eggs for groceries. This business was later sold to Bertrams. Thompson's Grocery Store, Taree, also had a boat, though much smaller.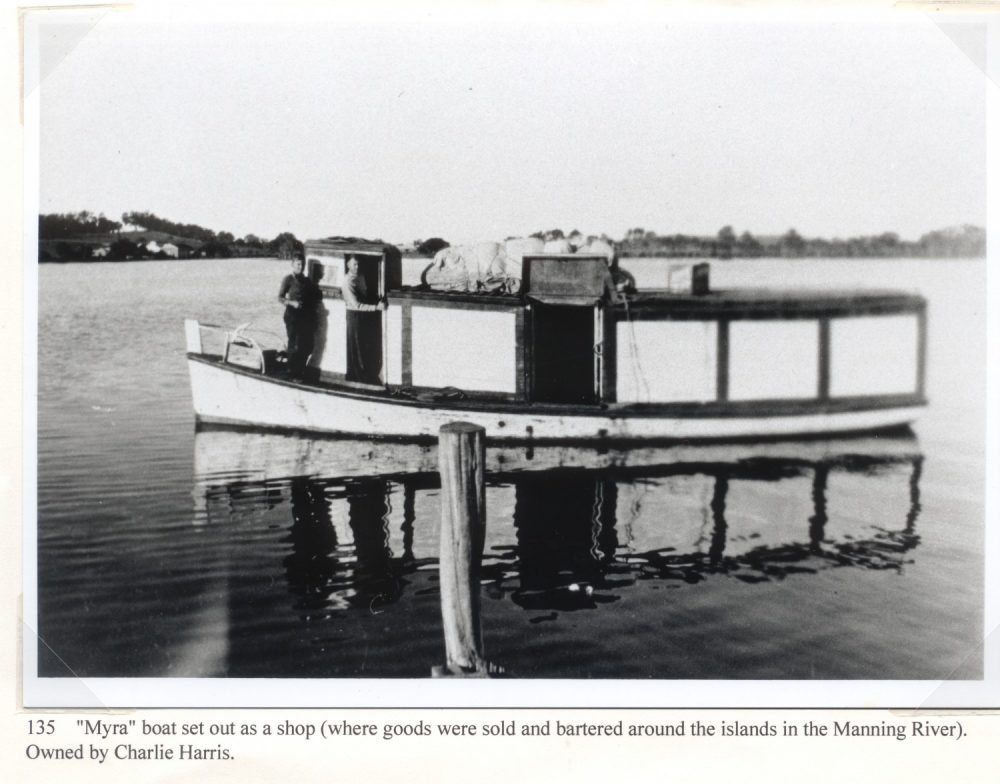 In the early 1920's, passenger boats went through creeks, picking up travellers to go to Taree for a day's shopping. Passenger boats also came up the river from Harrington, picking up at any places on the way, such as Croki, Oxley and Cundle. These were operated by Dowards and Kells.
Miss Gill remembers her mother, Mrs Maude Gill taking her and her brothers Bert and Desmond aboard the "Yankee Jack" at Croki to travel to Wingham for a day on the river. The boat stopped at Wingham for about 30 minutes and a picnic lunch in the Wingham Brush would be enjoyed with Mrs Gill's sister, Mrs Edna Gibson, who would meet them at the wharf.
Fishermen from Croki also traded on the river, selling their fish. They were mostly Italian and Miss Gill remembers the Barattas hauling fish near her grandmother's (Mrs Pereira's) place on the Manning River.
The oyster farmers also had boats, which were more like punts, from which they worked their leases on the river. Some shopkeepers actually rowed to Harrington to sell their goods.
Mrs Jean Ruprecht, of Taree, remembers a Mr Webster catching fish from his boat and selling them at Croki.
Doreen Maude Gill – (15.12.1908 – 18.10.2003)
Reference – Manning Valley Historical Society Journal Vol. 1 No. 5, 1989. (Interview with Judy Yarrington – 1989)