Behind
the Scenes
Exhibitions and Maintenance
The refurbishment of the sports cabinet with an expanded display of the 'Sydney 2000 Olympics' memorabilia is generating much interest. The Wingham Chronicle featured a front-page story about this new display, highlighting the role of Wingham High School student, Laura Spee. Laura worked closely with Terry Tournoff and painted the mural that augments the display.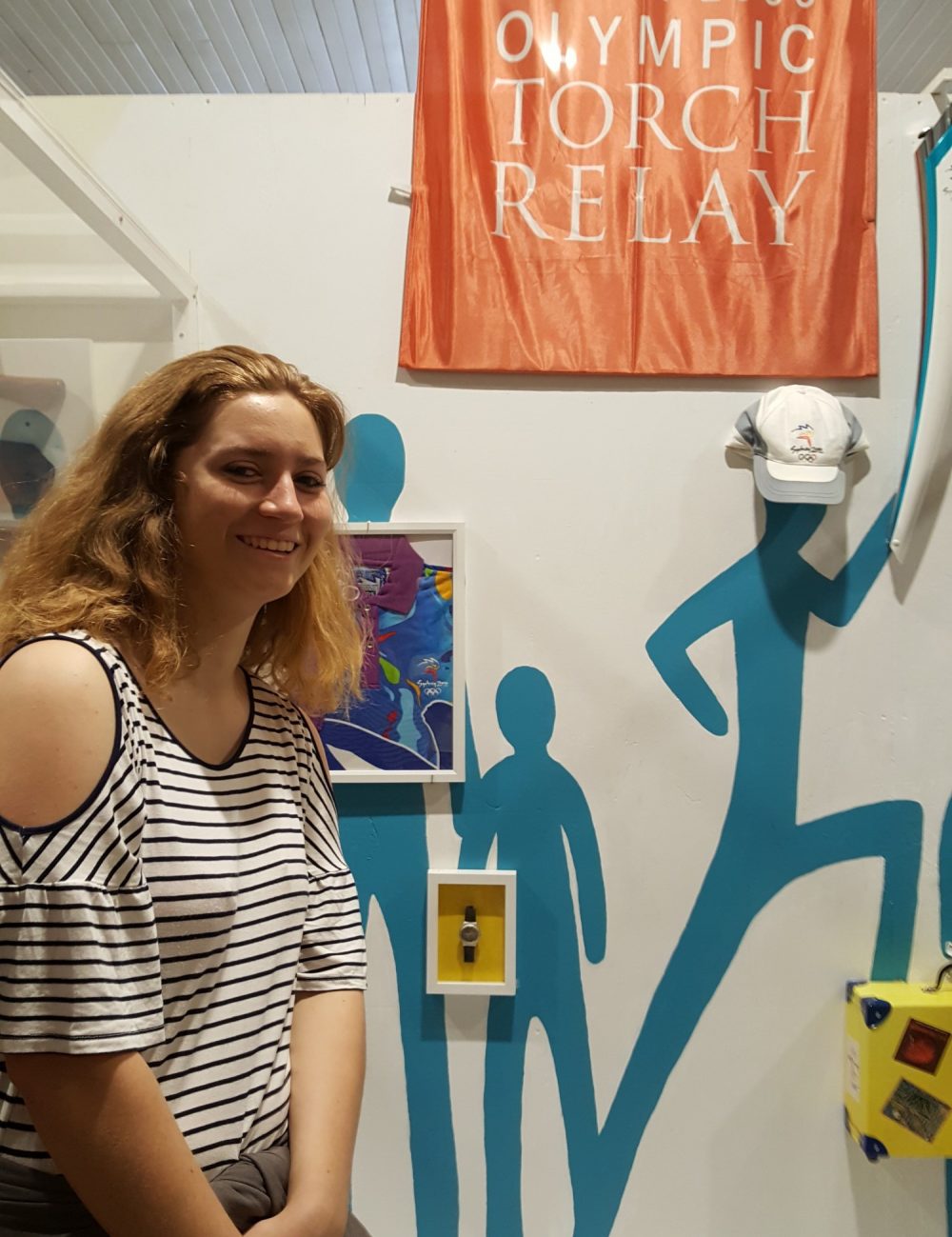 ---
Out and
About
Collectors Fair – MVHS had an information & museum promotion stall at the recent Fair and found it worthwhile.
Coming up is the Volunteer Expo 23rd May – we will also have a table display at the Expo as we are always in need of more volunteers.
---
Shine Festival
organised and promoted by Arts Mid North Coast to highlight and provide opportunities to explore heritage in our region.
Press Mentions – We had front page in the Wingham Chronicle which was also linked to our Facebook page & the Arts Mid North Coast online newsletter.
Rise and Shine all those members who worked so hard to make the 'SHINE' festival activity on Friday 26th April at our Museum in Wingham, such a resounding success. The theme of evening was 'Tall Tales but True' and 10 of our members, dressed in period costume gave a brief evocative account of stories from our local history. We had 4 sessions but had to extend to five, due to the large amount of interest & bookings. About 70 people participated and made favourable comments about their experience. We hope to repeat the event as a 'A Night in the Museum' later in the year.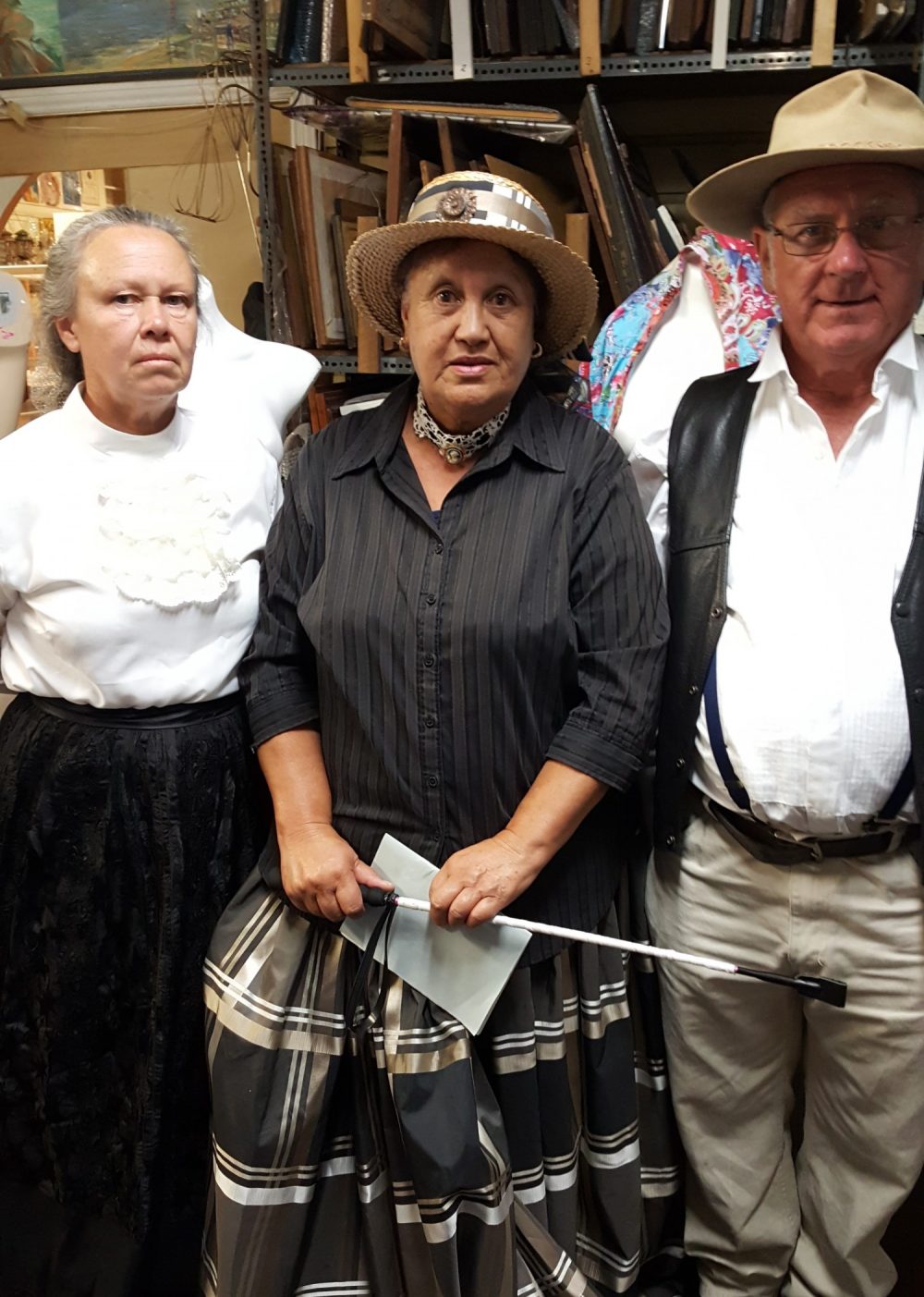 ---
Workshops
Stitches, Threads and Yarns and More, Wednesday, 5th June at Wingham Museum 10am-3pm.
The first of two workshops will explain the project in more detail and provide an introduction to collection documentation and significance or an opportunity to refresh and update skills and knowledge. The focus of these workshops will be on all object types, not only costume and textile collections. The workshops provide a great opportunity to access some professional training and support and to continue work on documenting collections. Enquiries and bookings by 29th May 2019 to: Debbie Sommers, mamidnorthcoast@gmail.com or 0438 195 776
Scottish Roots Workshop – Bonnie Wingham Genealogy Fair –– Thursday 30th May.
A great opportunity to enhance skills in researching Scottish ancestry. Bookings: Barbara Waters 6553 1321. See back page for further details.
---
From
the Archives
Some members have been researching and completing books whilst others have been doing some basic research training with archivist Kaye Wallace.
New Books for sale at our Museum shop
'Manning Volunteers in the Great War',
Volumes 1&2 by Margaret Clark. Margaret has researched records and sourced photos held by the Australian National Archives, the War Memorial, MVHS and local family collections. The volumes portray the service of men & women through WW1.
'The Eclipse' an overview of operations 1926-1964/5.
Phillip Gleeson has written a comprehensive reconstruction of the Eclipse Garage from recollections of family members and a number of former employees. The book reconstructs the history of the Eclipse Garage owned by Leo Gleeson, covering the foundation & early history followed by the purchase of the garage by Leo Gleeson. Leo Gleeson's foresight and entrepreneurial management skills saw the Eclipse undergo an ambitious upgrade in its workforce, skills based engineering & site capacity to cater for the distribution of new and reconditioned heavy trucks & bulldozers, together with their associated spare parts.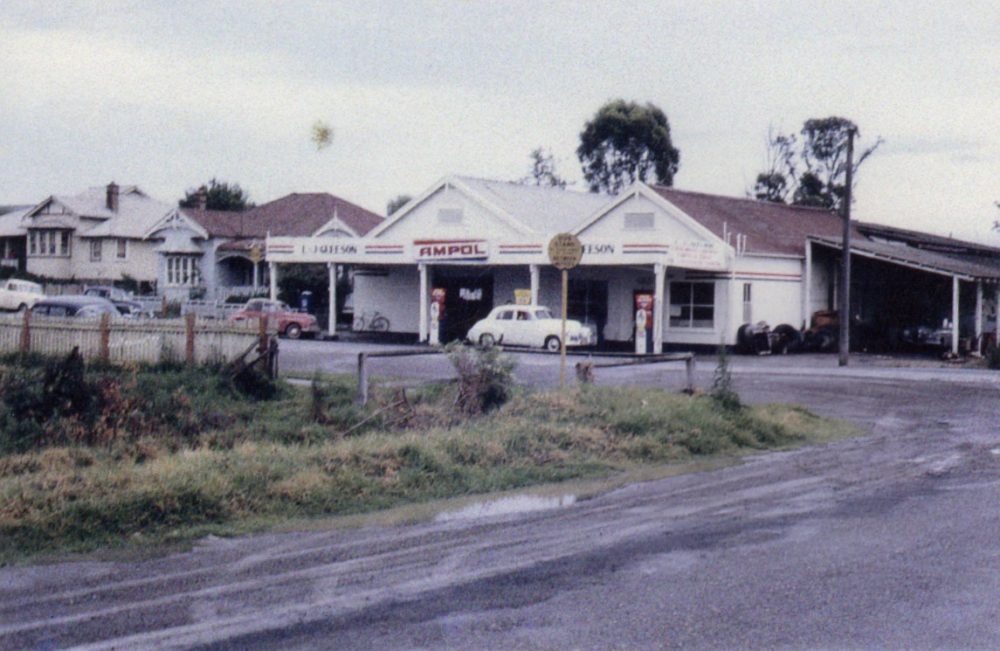 'Who Poisoned Mary Dean?' by author and our journal editor, Maurie Garland.
In colonial Sydney 1895, forensic evidence showed that Mary Dean had clearly suffered non-fatal arsenic poisoning. Husband, George, was arrested, yet no one who knew the ferry captain, sober and diligent could believe he was guilty.  When the question of who poisoned Mary Dean was answered, trials for perjury and conspiracy ensued.
---
Museum Visitors –
Carey Smoking Cap
On 26th April Margaret Keily and her mother Kathy Keily from Qld and cousin Denise Lamond, who lives locally, visited the museum to view their ancestor, Thomas Carey's smoking cap. Thomas Carey had arrived in Sydney in 1863 bringing the blue silk, gold coloured braid embroidered smoking cap with him. After time in Wollongong, Thomas and his wife arrived in Wingham where Thomas became a licensee of the Lamb Inn. He retired from the hotel trade and became a land owner. Margaret Keily had found the smoking cap on the website eHive. The group were delighted when Terry Tournoff, took the cap out of the display cabinet so that they could view it more closely and take photos.
The cap was originally donated to the museum by Clyde Carey, grandson of Thomas Carey and we have written a significance statement.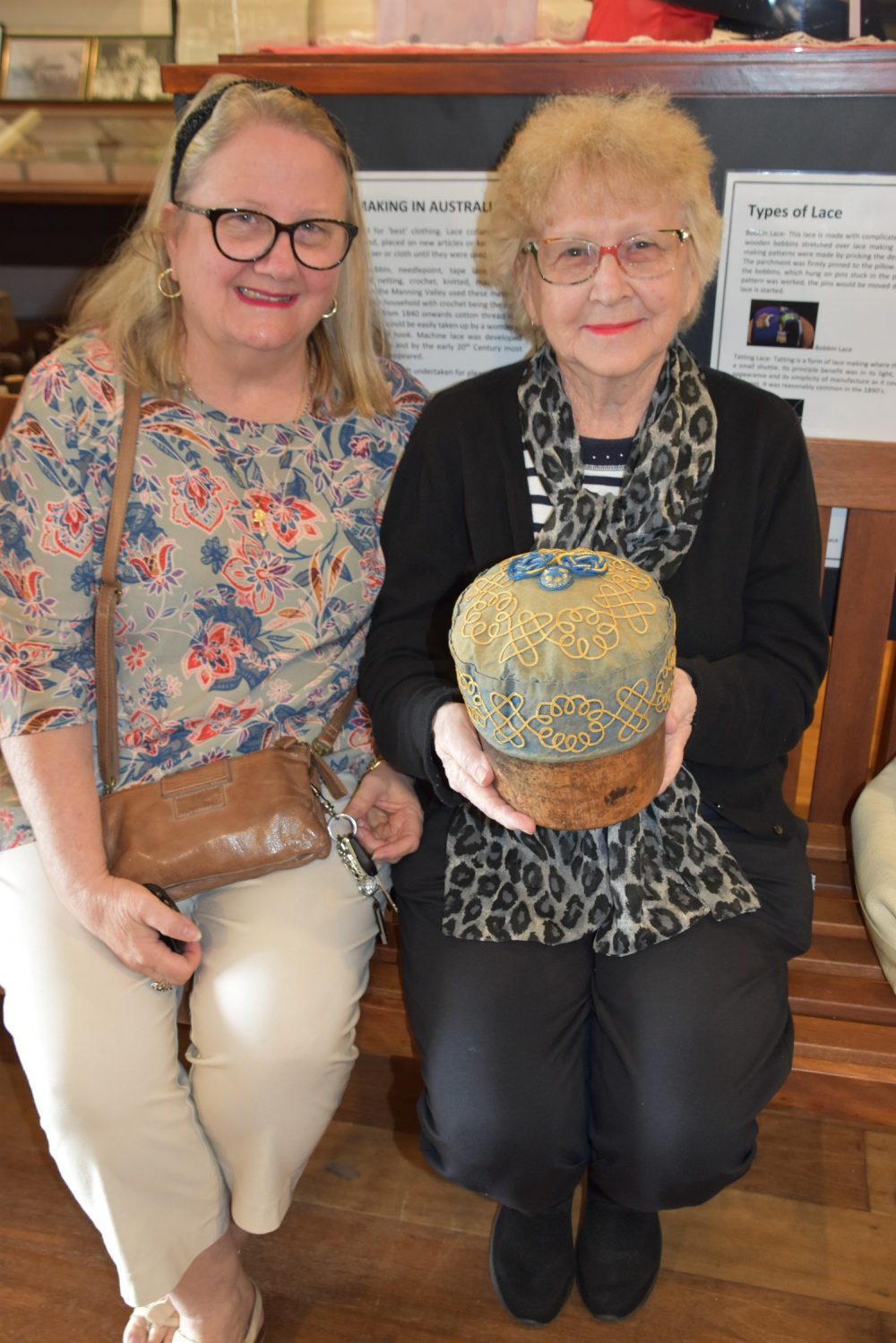 ---
Bus Tours bringing tourism
to Wingham
Recently touring Wingham and the museum was a group of 38 people from the Wollongong University of 3rd Age.
Also a Sydney North Shore Rotary group of about 40 people toured Wingham & the museum and gave a generous donation. Maurie Garland was quest speaker, with the topic, History of the Manning Valley, at their dinner at Harrigan's pub, Harrington. As well as conducting the Wingham tour, Bill Beach arranged for the group to visit a local dairy to watch the milking.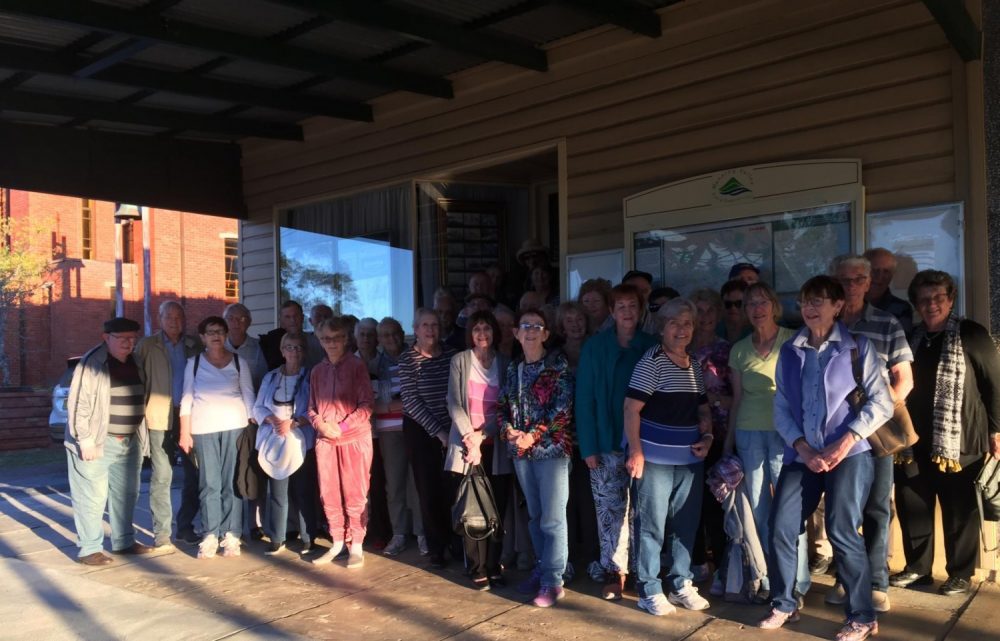 ---