Manning Valley Historical Society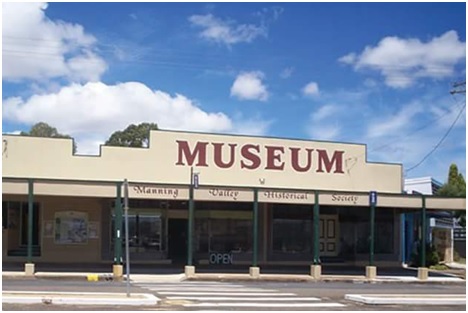 Behind the Scenes in the Museum
The Presidents Report
With the very difficult year 2020 behind us we are looking forward to, hopefully, being able to journey through 2021 with a more relaxed approach. The ever-changing pandemic regulations and restrictions, made operating our society and Museum challenging, to say the least. A very big thank you goes to all the volunteers who soldiered on through these difficult times.
This year is already off to a good start with our success in obtaining a substantial grant of $7863.00 for a new photo/document scanner. This will greatly improve our capabilities in this area of the Society's operations. On January 26th, I acted as Master of Ceremony at the Australia Day Celebrations, held in the Wingham High school Multi-Purpose Centre. This event is generally held in the Central park but a change of venue was required by the ongoing COVID safety regulations and the vagaries of this year's weather. Many who attended agreed the new venue and its facilities were excellent. The 30+ year tradition of the MVHS hosting this event along with the exposure in the local press has most definitely consolidated the Society's position in the community. I look forward to 2021 being a year of development and achievement for our Society and Museum.
Terry Tournoff
Behind the Scenes in the Museum
Volunteers continue to make changes to the back shed area, adding some artistic work on one of the walls to highlight displays. The chainsaw display has also been repositioned onto another wall. We recently received donations of an unusual wedding dress c1960s, owned by Rosemary Bishop and donated by her daughter, also received is a 100-year-old parasol from Angela Pink. The parasol belonged to Angela's grandmother and is in great condition.
Special MVHS Window Display
'Packed Lost and Found' is an exhibition on loan from the Manning Regional Art Gallery. It is a visual and written documentation process of the November 2019 bushfires in the Mid North Coast. Visual stories, documented by Tessa Kerbel and photographed by Julie Slavin, explore people's experiences through objects that they packed, lost or found during and after the fire. There is also a book being produced on the recent bush fires which can be sold through the museum at the Art Gallery's retail price.
Museum visitation has increased over the last 2 months. Groups of school students and bus tours with Sydney tourists have been visiting the area. Conducted tours of Wingham were included in the bus itinerary.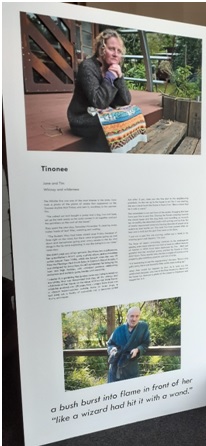 AMaGA (Australian Museums and Galleries Assoc.) Mid North Coast Chapter
Debbie Sommers from Port Macquarie Museum reports that there is funding for a series of significance workshops with Kylie Winkworth. These will be similar to those in 2019 for the 'Stitches, Threads & Yarns' project. This year's theme will be 'Journeys' so the focus is on documenting items in local collections with a 'Journeys' theme, eg; migration, travel and transport. The workshops will be held in Wingham, Port Macquarie and Coffs Harbour between April and August. Those interested to contact Robyn Greenaway.
AMaGA Hunter Chapter
Terry Tournoff and Kathy Bell attended the AGM of the Hunter Chapter which was held at Richmond Vale Railway Museum. This museum operates a railway and museum located at the heritage listed Richmond Main Colliery of Kurri Kurri. Attending was an opportunity to promote MVHS.
Digital Grant – we have applied for a $13,000 grant through AMaGA to expand our digital presence. A videographer would be engaged to professionally produce digital tours, short documentary style videos and re-enactments as well as build an extension to our website and place QR codes throughout the museum for additional information on displayed items.
What's On
Book Launch
May 2021 (date to be decided) Professor John Ramsland is happy to have his WW1 book, 'Rendezvous with Death' to be launched at the museum. Book signing can be during morning tea.
Arts Mid North Coast
Shining the light on arts, culture and heritage of the mid North Coast.
SHINE is a month long event celebrating the abundance of creativity happening in our region.
For the month of April 2021, SHINE will feature special events across the mid North Coast and showcase our artists, creative groups, events, exhibitions, workshops, heritage, museums and more!
MVHS received a $1,000 grant to stage and event … 'A Night at the Flix', Friday 16th April, 7pm, Multi-Purpose Centre, Wingham High School. The program will include power point presentations with six different themes, readings of historical events and enactments.
Bookings essential – 02 6553 5823
Tour to Glen Innes and Inverell Museums – Thursday 25th – Sunday 28th March, 2021
This involves overnighting at Glen Innes and the following day visiting History House Museum and the John and Josie Ellis collection and the Gawura Gallery. The group travels to Inverell to overnight and visit the National Transport and the Victa museums then in the afternoon, onwards to Uralla to overnight and on the Sunday, visit the McCrossin's Mill museum and heritage flour mill before returning home.
Final numbers are needed by 20th of March. For further information, contact Garry Hollis, Tuesdays at the museum, 02 6553 5823
Bonnie Wingham Scottish Festival Highland Fair – Saturday 5th June
Because of COVID and the uncertainty of organising and holding events, this year's Scottish Festival will be reduced to one day and will consist of a Scottish Fair. The Fair will be held at Wingham Central Park and entertainment will consist of pipe bands, and a parade, a pipe band quintet competition, market stalls, highland dancing, Scottish dog competition and highland rose Jacobite displays. COVID regulations will require monitoring attendance numbers and there will be a $2 entry fee requiring the wearing of a wristband. BWSF has a new website http://bwsf.zyrosite.com
Commemoration Church Service Sunday – 6th June at 11am
The service is to be held at St Andrews Presbyterian War Memorial Church honouring the early Presbyterian Settlers of the Manning Valley. This is not an official part of the Bonnie Wingham Scottish Festival event.
Judy Yarrington Newsletter Editor – View the newsletter on our website www.winghammuseum.com.au and check out Museum Facebook page: Manning Valley Historical Society.