Behind the Scenes
in the Museum
Museum Maintenance- The Exhibition and Maintenance teams are back from their summer break and on some of the hottest days in January, volunteers were working in the 'Old Wingham Town' display area, building a platform with new flooring under the fire and rescue/ambulance/medical and dental exhibits. On completion there has been a complete reorganisation of the items on display with signage still to be completed. Planning is underway for a refurbishment of the sports cabinet in the front room including a complete upgrading of our 2000 Olympic memorabilia. Also, in our front room the area that houses our 'opera/theatre' memorabilia has evolved with a billboard wall displaying vintage posters, some from local theatre productions in the 1950/60s.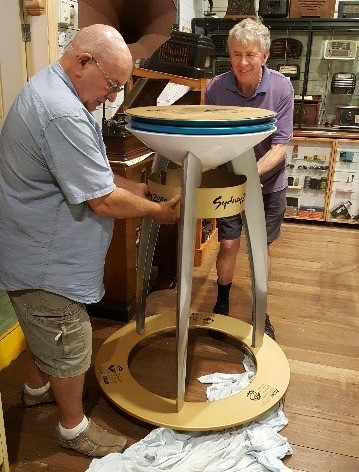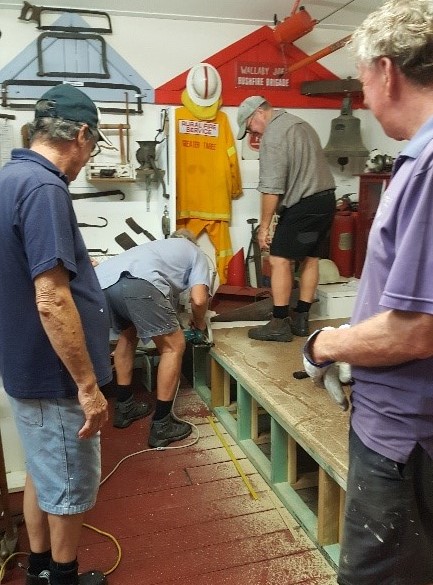 The organ, that has sat in the meeting area for years has found an appropriate home in the 'Church' area. Norman Jackson has completed a significance statement documenting the organ's history.
The organ is an Estey chapel organ which was mass produced in Brattleboro, Vermont, USA. It was donated to the MVHS by the daughters of Ivy Murray. There are two slightly different stories as to its original use by the Cleaver family (Ivy's grandfather, William Cleaver, may have used the organ in Wesleyan services in private homes before the church at Kundibakh was built in 1907), but it seems that Ivy learnt to play on the organ. It was later donated to the Kundibakh Methodist Church where Ivy continued to play the organ until 1974 when she moved to Wingham. It was also played by Pat Lynch her sister in law. In the early part of 20th Century, the church played a central role in the social life of the residents of Kundibakh with Sunday services, tea meetings, temperance meetings, concerts and Sunday school where Ivy's parents, William and Grace Lynch (nee Cleaver) taught for more than 40 years.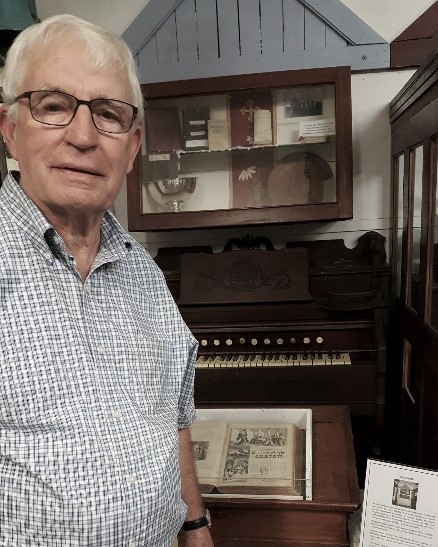 The church has now been deconsecrated and is owned privately.
Norman Jackson is currently interested in writing a significance statement about the red pillar post box which was collected from Taree by some of our founder members when it was taken out of use. Unsure of the location of our post box but there is a similar one in a photograph of the first P O in Victoria St; Taree.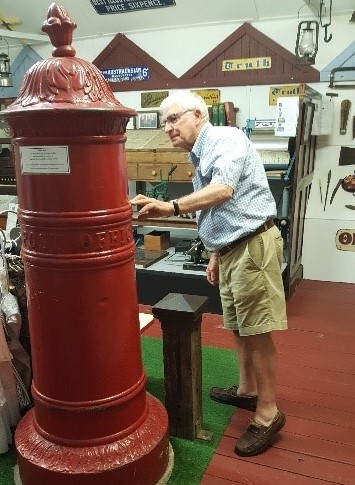 ---
Significance Statements
of our Museum objects
Over the last decade statements of significance have become one of the priorities of museum management. A statement outlines what is important and special about an object and involves playing detective, researching history, locating maps, photos and other relevant materials. It examines why and how the object is important on multiple levels, for example, historic interest, owner, use, social, artistic and relevance to a local community. It can be used to support a grant funding proposal.
---
Workshops –
'Stitches and Threads and Yarns'
Debbie Sommers from Port Macquarie Museum has advised that their grant application to the Community Heritage grants program, for further collection management training, has been successful. There will be another series of workshops in 3 locations across the Mid North Coast in 2019 – Coffs Harbour will host 3 workshops, 2 will be held at Port Macquarie and a further 2 at Wingham.
The focus for these workshops will be on all object types, not only costume and textile collections.
Wingham Workshop No 1, Wednesday 5th June, 10am -3pm
A series of collection, documentation workshops with Kylie Winkworth
Enquiries and bookings – Debbie Sommers by 29th May 2019,
043 195 776 or mamidnorthcoast@gmail.com
---
Coming Up
Bonnie Wingham Scottish Festival – Sunday 26th May – Sunday 2nd June 2019
Clan of honour 2019 is Clan Lindsay. Motto: Endure with Strength
The program includes Scottish Concert, Genealogy Fair and Workshop, Heritage Breakfast, Clan gathering and Ceilidh Concert, Highland Fair, Grand Scottish Ball and Thanksgiving Service.
For all those ambitious cooks, the CWA shortbread baking competition is on again – 10.30am on Friday 31st May. CWA Rooms, Isabella St; Wingham.
---
Tinonee Broom
Conundrum
Recently the broom that has been on display for many years in the laundry section of the museum was given to the Tinonee Museum. It was thought that the broom was one of the last made from a Tinonee Broom Factory. However, recent information received from a descendant of the Beatties, one of broom factory families, indicates the possibility that the broom was made in a Yass factory. Pictured are Pam Muxlow, Secretary Tinonee Historical Society, Neale Greenaway, President MVHS and Jenny Cherry, President of Tinonee Historical Society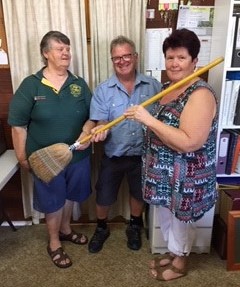 Tinonee Broom Factory