Manning Valley Historical Society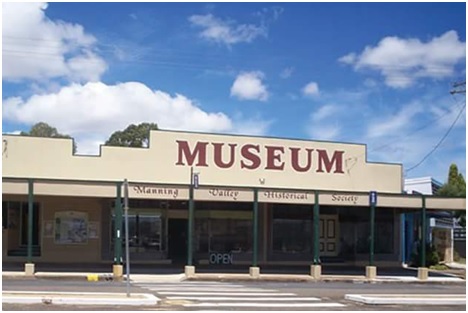 Behind the Scenes in the Museum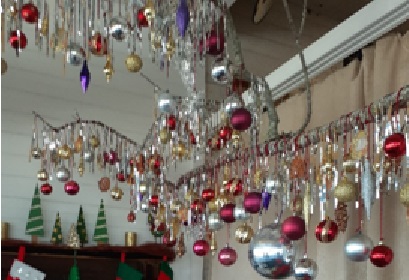 Christmas Greetings to All
The effects of the coronavirus with regulations and restrictions continue to play a noticeable role in the day-to-day operations of our museum. We have been fortunate that, after the total shutdown in April/May, with protocols in place the museum has been able to remain open for visitors. There have been less people travelling over the last few months and this has had an effect on our income. Three main income streams are the door, books and shop takings and of course this plays a direct role in the development of the Museum. Hats off to our volunteers who have 'soldiered on' through this period and to our Management Committee for quickly putting in place COVID-19 restrictions and monitoring and maintaining them.
Survey Monkey recently published a research report on 'How to adapt and thrive in times of crisis' with new insights on how agility and curiosity are helping organisations weather the storm of 2020. 'Curiosity to uncover and test solutions that can help find success, and agility to act with enough speed and commitment to uncertainty and adapt to volatility'.
We are pleased to report that visitors are returning and door takings and book sales have increased, but we are remaining vigilant and visitors and volunteers need to abide by COVID-19 regulations of social distancing and hand hygiene.
'Behind the Scenes' Projects have been completed, such as the workroom makeover and the volunteers' maintenance work shed, window displays have continued to be changed on a regular basis and exhibition spaces have been juggled around to make way for new acquisitions. A very striking horse drawn buggy, which apparently was used by Dr Kelly in the early 1900s has been donated back to the museum fully restored. The buggy has yet to have provenance authenticated, but the story is that many years ago it was in pieces and was exchanged for the blue buggy in our collection.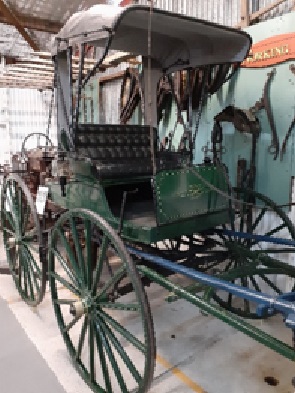 Sulky reportedly owned by Dr Kelly.
A Fashion Exhibition to launch the new exhibition and storage space was held featuring clothes in our collection and a dress dating back to the 1870s.
2020 Annual General Meeting
Our AGM was delayed because of COVID-19 restrictions but was finally held on 2nd December and all nominations for positions on the Management Committee were elected unopposed.
We welcome the incoming Management Committee members and give thanks to the outgoing members who have assisted the museum through a very difficult period.
President: Terry Tournoff,
Vice Presidents: Robyn Greenaway and Kaye Wallace.
Treasurer: Leslie Poulton, Secretary: Katherine Bell
Committee Members: Carol Clarke, Margaret Clark, Scott Grant, Cherie Jenkins, Carol Pammer, Leon Poulton and Judy Yarrington
Auditor: Wingham Accounting Services, Public Officer: Kerry Fitzgerald
The MVHS Christmas Party was a morning tea this year and attendance was reduced because of Covid but was enjoyed by our regular volunteers.
Grant Applications have been successful for a new updated photographic scanner, archive storage boxes and Mylar sleeves for document and photograph storage. Preparations for a new interactive touch screen display to be installed in our maritime section are also well advanced.
Exhibition of Evening Clothes 1920s – 1980s
This is currently in the museum for the duration of the holiday period and highlights clothing in our collection. On loan are dresses made by the late Lloyd Cross, fashion designer extraordinaire. Lloyd was born at Tinonee and after leaving Taree, worked for Canns bridal salon as a cutter and window dresser. In 1996 he won the Wagga Wagga Golden Gown Awards and later worked at Maggs Salon in Toorak, Melbourne, which was owned by Dame Zara Holt. On moving back to Taree, he lived at Glenthorne and designed and made Arts Council Costumes and was involved with the Flair Fashion Awards.
Lloyd died 29.1.1997 aged 61.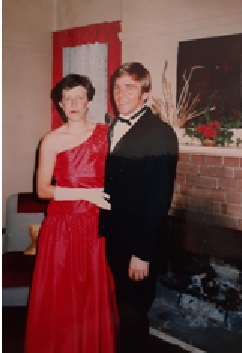 Ball gown worn by Jan Keppie at the 1986 Mayoral Ball which is one of the Lloyd Cross creations on display,
Tour to New England Area 2021
Glen Innes and Inverell Museums 25th -28th March
The plan is to stay overnight at Glen Innes and tour 'The Land of the Beardies History House' Museum, the John and Josie Ellis Collection and possibly, the Gawura Gallery. In the afternoon travel to Inverell to view the National Transport Museum and the Victa Museum.
Final Numbers will be needed by 20th March. For further information contact Garry Hollis on Tuesdays at the museum, 02 6553 5823
Computer Donation
A big thank you to Tim and Julie Bale of LJ Hookers, Wingham, who donated a number of used computers, screens and keyboards to MVHS. These computers are extremely welcome and will be utilised by maintenance, workroom and archive volunteers.
Christmas Closures of the Museum
24th, 25th & 26th December and 1st January.
Photo Album Donation by Hazel Summerville
These albums belonged to Leslie Moncrief Andrews (Monty), and document some of his time in WW1. Monty was born in Wingham and was 18 when he enlisted 1.12.1915. He went to signal school 2.3.1916 and arrived at Suez on 16.6.1916 and joined the 14th Company of Camel Corps. Six months later he was hospitalised with jaundice and returned to Australia for rest and rehabilitation.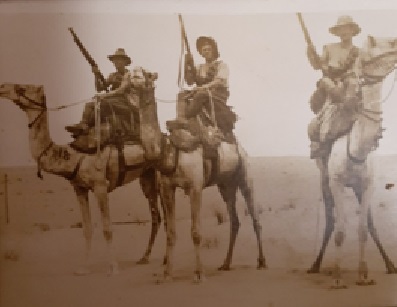 Camel Corps troops pictured in Monty's album.
He re-enlisted and embarked at Sydney on 17.8.1918, disembarking at Suez where he was allocated to the 1st Light Horse. Monty remained in Egypt until 13.3.1919. He returned to Wingham and died on 27.8.1961 and is buried at Woodside Private cemetery.
Reference: 'Manning Volunteers in the Great War' by Margaret Clark.
Museum Honour Boards 1918 – 1920 carved by Elizabeth Hawkins
The story of Elizabeth Hawkins unfolded a few months ago when we were contacted by a retired history lecturer from New England University and Vice President of the Armidale Historical Society. He had previously visited our museum and was unable to return and requested photographs of the foundation stones of Wingham War Memorial Hospital, the Cenotaph Memorial wall at the Wingham Town Hall and an Upper Manning Church Honour Roll in St Andrews Presbyterian Church which had been carved by Elizabeth Hawkins in 1918. Through further correspondence it was brought to our attention that besides the honour board in the church we had 2 more carved by Elizabeth on display in the museum. We have been amazed at the quality of Elizabeth's work and thrilled to have provenance provided for these boards.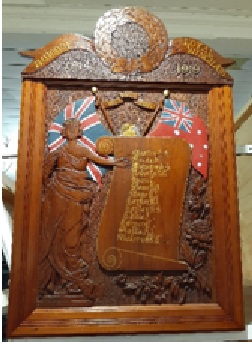 One of the Museum Honour boards made by Elizabeth Hawkins.
Elizabeth M Hawkins nee Wamsley was born at Gosford in 1866. Her parents were Edward and Alice Wamsley. She married William H Hawkins in1887 at Brisbane Waters and after a sojourn in New Zealand, Elizabeth and William came to Wingham, approximately, 1908. William was employed as a bush worker, sleeper cutter and in later years worked at the Wingham Butter factory. Elizabeth was involved in community work and the Presbyterian Church.
If any Hawkins or Wamsley families can provide any further information on this talented lady we would be extremely grateful as we are working on a significance statement for the two items in our possession.
Judy Yarrington Newsletter Editor – View our website, www.winghammuseum.com.au and check out Museum Facebook page: Manning Valley Historical Society