Manning Valley Historical Society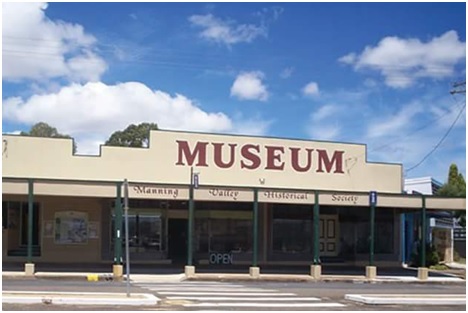 April/May 2020 Museum Newsletter
Behind the Scenes in the Museum
The Coronavirus pandemic has affected all our lives and the Museum is not immune to this. Accordingly, in keeping with current social interaction restrictions, our Archives and Museum are closed indefinitely. As this is a 'fluid' situation we are unable to determine how long this will last. We will, endeavour to keep members and readers informed through our newsletter and emails. Even though the museum is closed, books, photographs and research can still be requested through our website, www.winghammuseum.com.au or via email: mvhsmuseum@outlook.com
Behind our closed doors, Dennis and Cherie Jenkins have been working at finishing off the shed, workroom and deck across the alley to the workroom. Meanwhile, Scott Grant has been busy working on preparing a grant submission for archive materials and Robyn Greenaway has installed our ANZAC Day tribute window. A big thank you to our volunteers who continue to work 'behind the scenes' in these difficult times.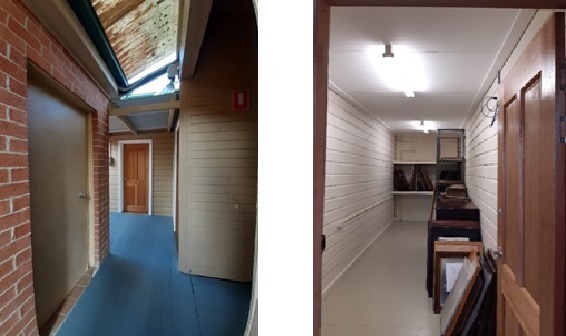 New deck connecting the meeting room area across to museum workroom (left) and new storeroom (right).
Planning and organisation of some proposed projects is progressing and as soon as practicable, these plans will be activated. Among these, is the installation of new metal drawers to house our extensive Murray Egg Collection and the refurbishment of the museum's front entrance. The recent assessment report by conservator, Kay Sonderland suggested action in these areas.
Events such as, Bonnie Wingham Scottish Festival and our popular 'Night in the Museum' will hopefully be held in September.
ANZAC Day
A Collection of War Diary Entries
Private Clifton Hartley Mudford
Just one of the casualties of WW11 from the Manning Valley.
Private Clifton Hartley Mudford died of cardiac Beri Beri while a POW in Malaya on Jan 6 1944 aged 26 years. He was born at Moorland and educated at Stewarts River, Tinonee and at Taree High School. On leaving school he and his brother took up farming at their old house at Stewarts River. Enlisting at the outbreak of war, he served as a Bren gunner with 2/30 Battalion under the command of Colonel Galleghan and was one of the crack shots of the battalion. He was taken prisoner on the fall of Singapore and since that time, the only news his family received consisted of 2 short postcards, the last dated Feb 21, 1943. His father, James, served with the 7th Light Horse at Gallipoli.
Letter printed in the N.C. (Northern Champion) 25/2/1942, Cliff to his mother, Mrs H.M.D. Mudford of Stewart's River.
We have been in action for nearly three weeks and none could say they like it. I am well and so are the other boys (Peter and Joseph Mason and Scott Wallace). Peter and Scott are in an armoured car. Joe and I are machine gunners on foot. If we only had a few planes here we could hold the Japs, but their planes come over every day to bomb and machine gun us and spot our positions for their artillery and we cop it from them. We got a very heavy shelling in the last position we were in. One landed 5 feet from the hole we were in but we were OK. Joe and three others of our platoon were a bit further down the hill in the open. One got a bit of shrapnel, but is alright. I met Mick King (Tinonee) about a week ago. I suppose you heard about the battle of Gemas. That was our battalion against two Jap brigades, and we had them beaten until their planes came. If we had had 6 fighter planes that day the whole position here would be different today.
In a later letter, dated 1st Feb.
I was put in an armoured car yesterday with Peter and Scott, after we had lost a mate. We had to come back today to get the gear. It's a bit of a break too, after bully beef and biscuits and water – if you can get it – for the past week. Last night I had a full night's sleep and had my first wash and shave for 9 days yesterday. You can guess we needed it after spending a lot of our time in the first hole you could find. I suppose you know that we are all back on the island. We fought over 100 miles of rear-guard action and belted hell out of the Japs all the way. If we had had planes the Japs would have been in Thailand by now. The four of us are well.
LETTERS FROM MALAYA N.C. 25/3/1942 Clifton Mudford
7th Jan. One of our boys who has been in the same platoon as me ever since we enlisted got a decoration last week. It evidently came out in the New Years honours. He is Cecil Plews MBE. It was for the good work at the time the carrier collapsed at Bathurst. We knew nothing about it until he was called up to get it, the other day, and it was the first he knew too. We are all very pleased about it. A couple of the boys were down at the creek having a wash when they saw a snake in the water and they shot it. It measured 9'4". We have had our names painted on our carriers, ours is "Jackass" and not far out either.
14th Jan There was a big battle yesterday. Our unit gave a very good account of themselves, but pluck isn't as good as bombers and tanks. When we haven't any, war loses all its glamour at close quarters. All the boys you know are ok although there were plenty of narrow shaves. I'm sure our battalion could hold two brigades of Japs – in fact, they did until the tanks and planes came, and a plane can do accurate work when they can fly as low as 50', with nothing to stop them. I was going past Brigade HQ last night in a truck and our officer had to go in for something. He was told they had a telegram from the General sending congratulations to our unit. They showed the Japs what Aussies can do, anyway. Their dead were three times as great as ours, with all their advantages. One chap out of our platoon, Bob Newman, from Coffs Harbour, picked up a native walking stick a few weeks ago and has been carrying it ever since. When he got bombed out of his posse yesterday, he left it behind and he walked back 50 yards through machine gun fire to get it.
3rd Feb I wrote you before that we are back on the island, we had a very hard fortnight making it. Planes came over this morning and did a bit of bombing, but not much harm. I was in an armoured car for a few days but all of us, Peter and Joseph Mason of Stewart's River – except Scott Wallace are in ground positions now. We sleep in daytime when we can, as we can't move at all in daylight, as our positions are under observation from the Japs. We can see them too and are in machine gun range and it's hard to keep from firing but the C.O. says no, and he knows best. We have been watching our artillery blowing down a big tower, which the Japs have been using for O.P. They are firing at a range of 10 miles and very few shots miss. That's good shooting – when they can't even see it, and they have it about down. Our Colonel is a beaut. He keeps us a move ahead of the Japs all the time. I bet in a month he would give Togo brain fever.
Terry O'Rourke
This extract is from the journal kept by Terry O'Rourke while he was a POW in Changi. He collected a large number of poems, some of which he wrote himself and gave a description of the days of warfare and retreat that lead to their surrender at Singapore.
They are waiting for the battle to commence as their battalion, the 2nd/30th ambushes advancing Japanese troops at Gemas.
… It was just after 4 o'clock when the word came through from B Coy.  "Enemy cyclists are crossing the bridge in large numbers!"  And we knew the game was on.  Immediately a patrol from 13 Platoon under Harry Aerea went out to try and contact them.  The next news we heard was that Harry Weiss, who was on the patrol had been hit and probably killed but shortly after he limped in helped by one or two of the others. 
The whole Battalion was standing to now, anxiously awaiting further news from B Coy but none came and it was realized that the Signal Wires had been cut.   4 section moved up onto the top of the hill on 6 section's right where we had a great field of fire, but nothing came and at dusk the whole platoon moved to Coy in close formation where we laid down side by side with a very wide-awake sentry at the end of each section. 
Many men's thoughts turned to home that night and our loved ones were remembered as we lay there in darkness.  No man knew what the morrow would bring and God alone knew who would be lying bloody and still on the battle-field…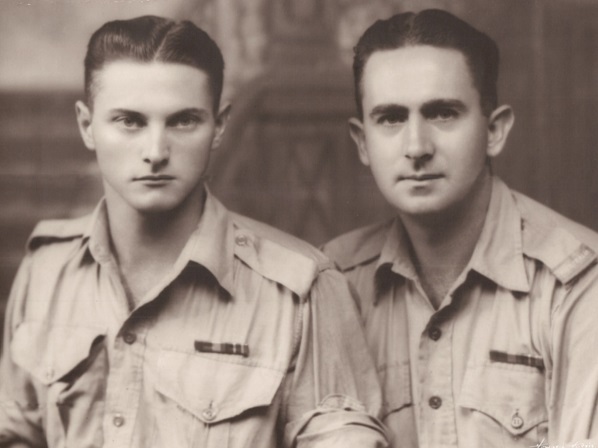 Stan Lewis and Terry O'Rourke. Stan was from Comboyne and died on the construction of the Burma railway. Terry was born at Lorne and is the father of our member, Margaret Clark.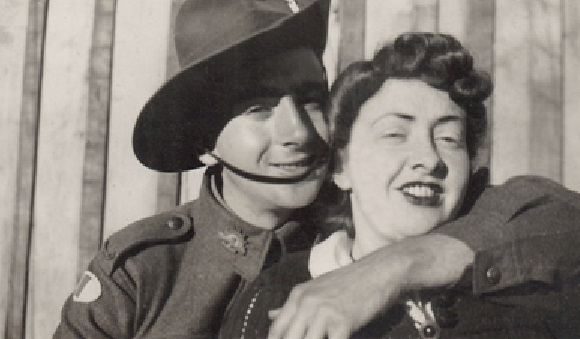 Terry O'Rourke with his sweetheart.
Bill Miggins
Bill Miggins, reporter and compositor on the Wingham Chronicle also kept a diary in which he described the horrors of life on the Burma Railway, WW11.   
Mar 29 1943 Moved camp to Tarsao. We saw a column of men march in from further north, or staggered in would be more appropriate. I have never seen men look like these before and I never want to again, indescribably thin and ragged, some had filthy bandages trying to cover huge tropical sores from which matter was oozing… the stench was overpowering. I had to walk away to get some fresh air and stop myself from vomiting. Others were racked with malaria and swollen with beri beri. Their people would never recognize them now for the men they once were.
April 11 1943 Our job is to build an embankment about 80' right at the foot of the mountain…we have to carry the earth from the gully in Chunkahs (a rice bag with bamboo poles poked through it lengthways for 2 men to carry) Hard work especially at night. It is a weird scene at night with the bamboo fires shining on the naked sweat glistening bodies of the workers.
May 6 1943 The heat in Hellfire Pass is almost unbearable, we have all been reduced to wearing loin cloths and thongs. It is nothing for several men to collapse with heat exhaustion during the day.
May 9 1943 The sick parades are getting longer every day. The Doc is going till midnight to get through them.
May 10 1943, I keep jotting these notes down in my secret little book when I am in the mood, but what can one keep writing about in the sufferings of his mates. This not a camp of living men but of the living dead. There is no conversation for what is there to talk about and we have not the faculty for thinking.
Judy Yarrington Newsletter Editor – View the newsletter on our website, www.winghammuseum.com.au  and check out Museum Facebook page: Manning Valley Historical Society